Bloomin marvellous! Barbados and Grenada's twin gold medals at the recently concluded Chelsea Flower Show were testimony to the rich horticultural heritage in both countries and the dedicated individuals who have nurtured its growth. Barbados' winning exhibit "Sugar Factory Ruins Reclaimed by Nature" which was designed by acclaimed artist Arthur Atkinson, was its 14th gold in the last twenty one years and was achieved amid 600 competitors from every corner of the globe.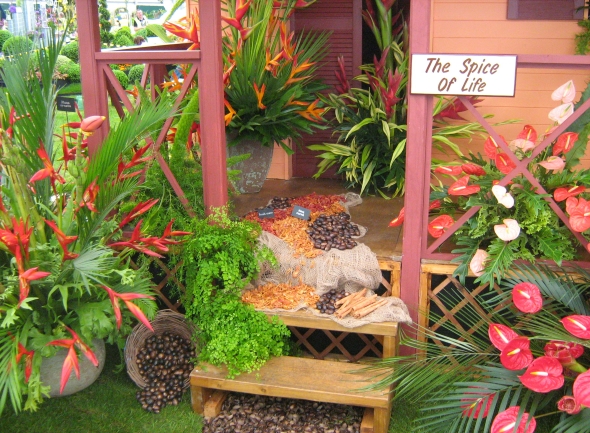 For over half a century Iris Bannochie's Andromeda Gardens was the flagship destination on any east coast island tour but horticulture is now a boom industry in Bim with COW Williams' Canefield Plantation site in St. Thomas supplying anthuriums, ginger lilies and heliconias on a commercial scale, many of which were on display at Chelsea. Orchid World in St. George has over 20,000 specimens on view too while Hunte's gardens, a former sugar plantation, and Flower Forest in St. Joseph are also well worth a visit.
Grenada is no less arresting for the flower enthusiast, and driving around you cannot fail to be assailed by the aromatic whiff of spices at every turn, from nutmeg to pimento, which only thrives in Jamaica elsewhere in the Caribbean. If that isn't enough of a sensory overload then try some of the fruit of the cocoa tree which is rapidly establishing itself on a far wider scale here. From a small cottage industry started just over a decade ago using ancient machinery deep in the country, the Grenada Chocolate Company has suddenly gained a burgeoning international reputation. It's purely organic for one thing, and fair trade, only problem is the demand often outstrips supply. And why not, it's smooth, utterly divine, unlike anything you've ever tasted, guaranteed....... and usually unobtainable. Americans purchase it by the suitcase (big ones), damn them, and on my last visit there was none to be had at the airport either.
Like the flowers, shrubs and spices, it reflects the wonderful growing conditions of the rich volcanic soil. Oils, organic soap and cosmetics are another valuable by-product and for the green fingered Grenada is truly a place to savour.
Caribbean Horizons
run dedicated garden tours to places like Sunnyside, Bay Gardens, The Tower, Joydon and Balthazar estate. Take time out there if you can. Oh...... and some advice for the Chocolate Company...... set up a stall at the Flower Show next year lads you could sell us a few bars there for sure. Unless the Yanks got there first.
For advice on other things to do around Barbados and Grenada and where to stay, please see:
The Definitive Caribbean Guide to Barbados
and
The Definitive Caribbean Guide to Grenada
.